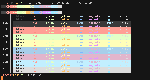 1
 2
 3
 4
 5
 6
 7
 8
 9
10
11
12
13
14
15
16
17
18
19
20
21
22
23
24
25
26
27
28

! vim: set filetype=xdefaults :





*foreground

:

 

#C7C7C7




*background

:

 

#151515




!black




*color0

:

     

#393939




*color8

:

     

#474747




!red




*color1

:

     

#FF9F95




*color9

:

     

#FF8D80




!green




*color2

:

     

#E2FFC7




*color10

:

    

#DBFFB3




!yellow




*color3

:

     

#FFFFB9




*color11

:

    

#FFBE64




!blue




*color4

:

     

#A8CEEA




*color12

:

    

#7EB6FF




!magenta




*color5

:

     

#E2B5CC




*color13

:

    

#E296FF




!cyan




*color6

:

     

#C2EFFF




*color14

:

    

#9CE9FF




!white




*color7

:

     

#dddddd




*color15

:

    

#dddddd



Comments
lchr said about 9 years ago
These are fantastic. Been using them for a few days, and will continue to do so. Best colors ever. Thanks!
rstrcogburn said about 9 years ago
+1 for what Ichr said, though not using them. One interesting thing about em other than their values and lightness, is the inverted darker and lighter for each color. Great fit for these, only complaint is that I can't buy them at the local candy store. Your color chart is really 1337.
crshd said about 9 years ago
@rstrcogburn Where do you live? Maybe I can make a deal with them.