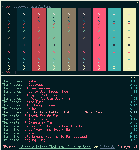 1
 2
 3
 4
 5
 6
 7
 8
 9
10
11
12
13
14
15
16
17
18
19

urxvt.foreground

:

 	

#E8DFD6




urxvt.background

:

 	

#021B21




urxvt.cursorColor

:

  

#2E3340




urxvt.color0

:

       

#032C36




urxvt.color8

:

       

#065F73




urxvt.color1

:

       

#C2454E




urxvt.color9

:

       

#EF5847




urxvt.color2

:

       

#7CBF9E




urxvt.color10

:

      

#A2D9B1




urxvt.color3

:

       

#8A7A63




urxvt.color11

:

      

#BEB090




urxvt.color4

:

       

#2E3340




urxvt.color12

:

      

#61778D




urxvt.color5

:

       

#FF5879




urxvt.color13

:

      

#FF99A1




urxvt.color6

:

       

#44B5B1




urxvt.color14

:

      

#9ED9D8




urxvt.color7

:

       

#F2F1B9




urxvt.color15

:

      

#F6F6C9



Notes
A color scheme I made that uses a blue background. Pretty good if I do say so myself.
Comments
hal said about 9 years ago
.
edited about 9 years ago
Good stuff, hal. Keep it up!
Beastie said about 8 years ago
poony said about 7 years ago
lvcrft said about 6 years ago
Hey, do you still have that ncmpcpp config?