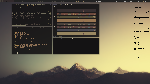 1
 2
 3
 4
 5
 6
 7
 8
 9
10
11
12
13
14
15
16
17
18
19
20
21
22
23
24
25
26
27

*background

:

 

#141314




*foreground

:

 

#ccc2a6




!black




*color0

:

    

#322a2c




*color8

:

    

#46423b




!red




*color1

:

    

#70473a




*color9

:

    

#916255




!green




*color2

:

    

#534d35




*color10

:

   

#858167




!yellow




*color3

:

    

#9c7650




!*color3:    #9c7650




*color11

:

   

#ad8650




!blue




*color4

:

    

#473e38




*color12

:

   

#75715e




!magenta




*color5

:

    

#543b3b




*color13

:

   

#7b5d51




!cyan




*color6

:

    

#434450




*color14

:

   

#586868




!white




*color7

:

    

#9a875f




*color15

:

   

#917154



Notes
This is based on franksn's year of the horse, just messed with the cyan and blue to make it pop a little better.
Comments
cfoobaz said about 6 years ago
I'm a year late, but this is awesome. I've never seen a colorscheme like this. Most are either bright or pastels.
Gargantua said about 4 years ago
hey thanks a lot, all of it is stuff I learned from people here.. I wish this community would pick up again! gonna start post some awesomerc's myself